BEACHES IN NAFPLIO

Large, clean sandy beaches with crystal clear waters.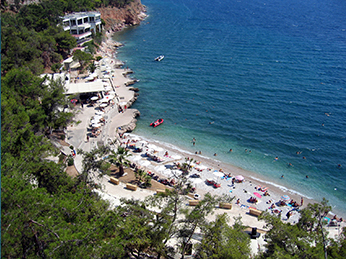 ARVANITIA BEACH

Pebbled on its center. Rocky on its edges, access through small metallic ladders. Middle sized beach, sandy and small pebbled. Sea bottom: Sandy. Driving or walking the uphill road, next to the Arch of Land, one will find the large parking space, leaving the center of Nafplio behind him. Then, you will have to follow the steps which will lead you directly to the main part beach. Probably the nearest to Nafplio beach, behind the city centre, on the south of Akronafplia. Cafeteria, deck chairs, showers, rented sun umbrellas, W.CAdditional Information: Free parking space provided in the area. On the left of the parking lot, one can see the gravel road, connecting the Arvanitia beach with that of Karathona.
KARATHONA BEACH

Favorite of locals, along with the natural beach of Arvanitia, Karathona turns you off from the stress of everyday life, and makes you part of an image, almost exotic, in few minutes! These are the good things of Nafplio. One minute you're downtown, next remoteness. And what remoteness! The beauty of the city's longest beach, stretches behind the Rock of Palamidi, a length of approximately three kilometers. In order to get there you can drive, or you can continue your walk, from Arvanitia square. When you reach the baech for the first time, with a quick view you may understand why Karathina is the locals favorite beach: palm trees, eucalyptus and the (island) Mouse, offer a characteristic specificity.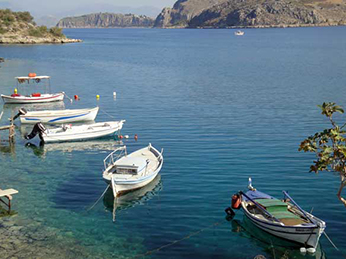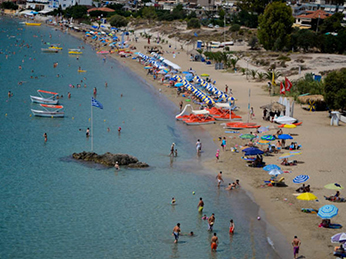 TOLO BEACH

The resort town Tolo, 9 km from Nafplio, has an almost endless and well-organized sandy beach, with a wealth of sun loungers / parasols, taverns and cafes. You get here by simply taking the bus from Nafplio, which runs every hour during the day (with a few exceptions). Quite often, a whole lot of people will be at this beach, because there are a plethora of hotels and campsites nearby.
KASTRAKI BEACH

A small, quiet beach near Tolo. If you find a place to relax then Kastraki Beach is the perfect place for you. Small gravel beach that's located near Tolo, just below the excavations in Asini. Some sun beds / parasols, taverna with tasty fish, and views of Tolo.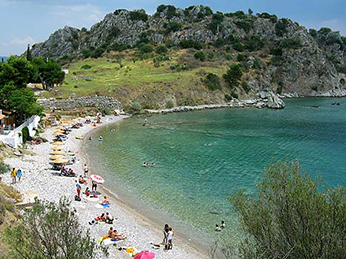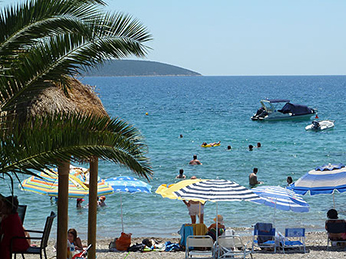 PLAKA BEACH

Just 700 meters from the village Drepanon, Plaka beach is accessible by car, bicycle even on feet. Plaka took her name from the large pieces of plaques found in some parts of the seabed. Here you have several options: You can find everything here, since the beach is organized with several beach bars and cafes. If you looking for a little privacy, you can enjoy the sun on the other half of the beach, which is free. If you have family then you can safely let your children to play.The location is ideal for camping, thats why here you will find many organized, modern camping, with natural shading. Plaka is famous for its campings!
KONDILI BEACH

Perhaps is the most famous,crowded beach of the area. Beach bars, music, drinks, beautiful sea will give you an adventure in your holidays.Once again a long beach, this one is covered in fine gravel. Usually with quite few visitors, especially if you walk southeast. Also, nudism seems to be ok at the south-eastern part of the beach. The water in the northern part of the beach is quite deep, just after a couple of steps into the sea. The small white church that can be seen on the promontory, Ag. Nikolaos, can be visited by wading or swimming there.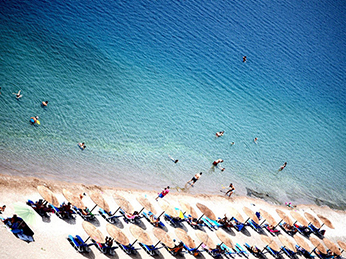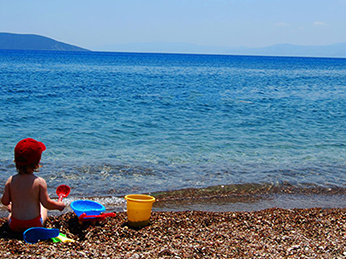 KANDIA BEACH

A neverending long beach with sand, gravel and pebbles. It's easy to find peaceful spots here, but also very nice to stay on the part of the beach which runs parallel to the centre of Kandia. Here's a really good fish tavern and some cafes as well as loungers with parasols. Between Kandia and Iria, see below, is Kandia's Castle, a truly massive hotel that looks like, (you guessed it!), a castle, with luxury restaurants and thalasso therapy.